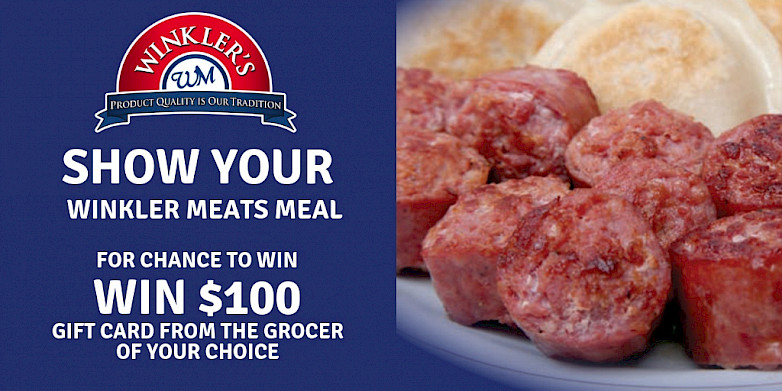 Share your best meals made using Winkler Meats for a chance to win a $100 Gift Certificate from the grocer of your choice!
At Winkler Meats, we pride ourselves on helping our customers put the very best meals on the table for their families. We recognize that today's fast-paced world, it's often hard to balance the goodness of a home-cooked meal with the demands of everyday life.
That's why we're turning to the people who know our products best - our customers - to explore the many ways real people use Winkler Meats in their everyday lives.  We're looking for inspiration - meals don't need to be fancy to be good. Whether you're cooking for 2 or 20, Winkler Meats wants you to share the things you do that make meals prepared with our products special.
Show Us Your Winkler Meats Meal!  We're offering a chance to win a $100 Walmart Gift Certificate.  All you have to do is:
Follow Winkler Meats on Facebook or Instagram, and upload a photo of your favourite Winkler Meats meal.  
Tag your photo @winklermeats, and be sure to include the hashtag #winklermeatsmeal.
The contest is open now through December 8, 2018.  The winner will be randomly selected and contacted through Facebook or Instagram.
With the holidays fast approaching, we know that many people will be cooking for company, and we want to help make your gathering a memorable one. Winkler products are proudly made in Winkler, Manitoba and distributed by grocers throughout Western Canada. At Winkler, Product Quality is Our Tradition.
------------------------
Share Winkler Meats Photo Contest Rules
ELIGIBILITY:  Photo Contest is open to residents of Canada only, must be 18 years of age and older, and have a valid Facebook and Instagram account to participate. 
Note: If your profile is set to private, only your followers will see your photos. Winkler Meats will not be able to see your photo! 
PUBLICITY:  By participating, each entrant grants Winkler Meats Ltd., permission to use his/her name, likeness, and photo submitted for publicity without payment of additional consideration, except where prohibited by law.
PHOTO CONTEST PERIOD: The Contest begins at November 22, 2018 Noon CST and ends at December 8, 2018, Midnight CST. ("Contest Period"). All photo entries (submissions) must be received on or before the time stated during that submission period. Winkler Meats Ltd. reserves the right to extend or shorten the contest at their sole discretion.
HOW TO ENTER:  
Entrants must Like Winkler Meats Facebook Page or Follow Winkler Meats Instagram,
Upload a photo of a meal made with Winkler Meats product to Facebook or Instagram
Tag photo @winklermeats and include #winklermeats.
Each entrant will receive one (1) entry into a random draw.
WINNER SELECTION:  The winners will be chosen randomly on December 10, 2018 on or about noon CST. Winners will be contacted by Facebook Direct Message and Instagram. Each entrant is responsible for monitoring his/her Facebook and/or Instagram account for prize notification. If a potential prize-winner cannot be reached by Winkler Meats within five (5) days, using the contact information provided at the time of entry, or if the prize is returned as undeliverable, that potential prize winner shall forfeit the prize. Winkler Meats Ltd. will then draw another winner. Prizes may not be awarded if an insufficient number of eligible entries are received. 
PRIZES:  There will be one (1) winner
A. (1) Prize Winner will receive one (1) Gift Card from a grocer of their choice valued at $100. Prize is non-transferable. No substitution or cash equivalent of prizes is permitted.
NOT SPONSORED BY FACEBOOK AND INSTAGRAM: The Contest is in no way sponsored, endorsed or administered by, or associated with Facebook and Instagram. Facebook and Instagram are hereby completely released of all liability by each entrant in this Photo Contest. Any questions, comments or complaints regarding the Contest must be directed to Winkler Meats Ltd. and not Facebook.